How to Use Winter Chemicals

With so many chemicals to choose from, it can be hard to know what each one does. Read this article and find out how to use winter chemicals.
Winterizing your pool before you close it is the most important thing you can do to ensure your spring pool opening is as easy as possible. The benefits to properly winterizing include:
Protecting your pool surfaces and equipment
Keeping water looking its best all winter long
Protecting equipment from freeze damage
Saving time and money on extra maintenance when you open your pool
With our BioGuard® products, winterizing is painless. At Fiesta Pools & Spas, you'll find the products you need for cold weather care.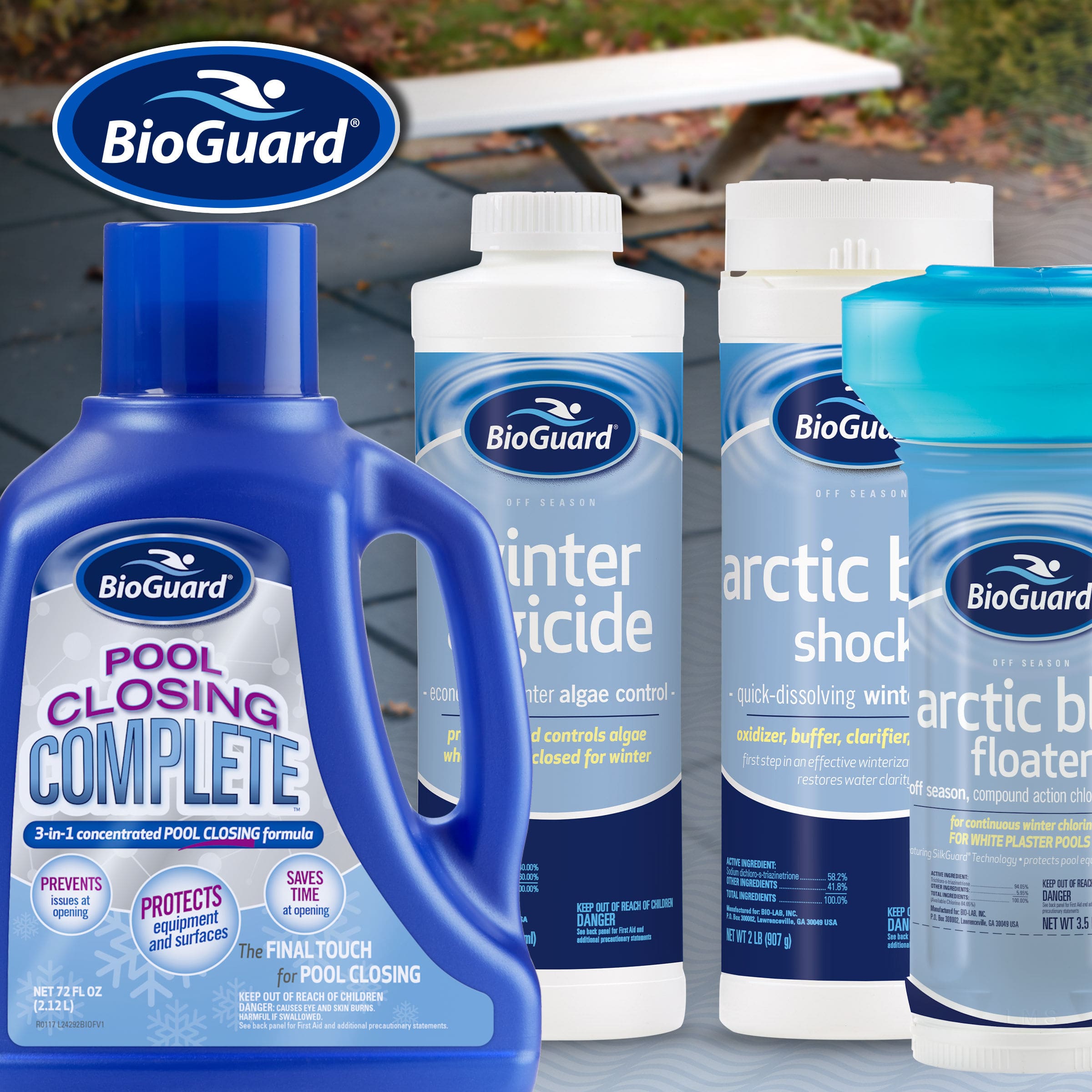 Winterize Your Pool Before You Hibernate for the Winter!
Winter is just weeks away, and that means it's time to start thinking about pool care during the off–season. Are you ready? We definitely are, and that's why we're inviting you to stop by and stock up on premium winterizing products from BioGuard® to properly close your pool and avoid any nasty surprises next spring.
Choose from convenient, easy–to–use pool care closing kits or a host of individual products to get your pool through the cold winter months. Some perks for taking the time to do it the right way:
Protecting your pool surfaces today saves you money on

potential weather

–

damage tomorrow

Keeps your water looking its best all winter long

Protecting equipment

from freeze damage also saves you money

Saves you time and money on extra maintenance when you

open your pool next spring
Here are our favorite winter chemicals.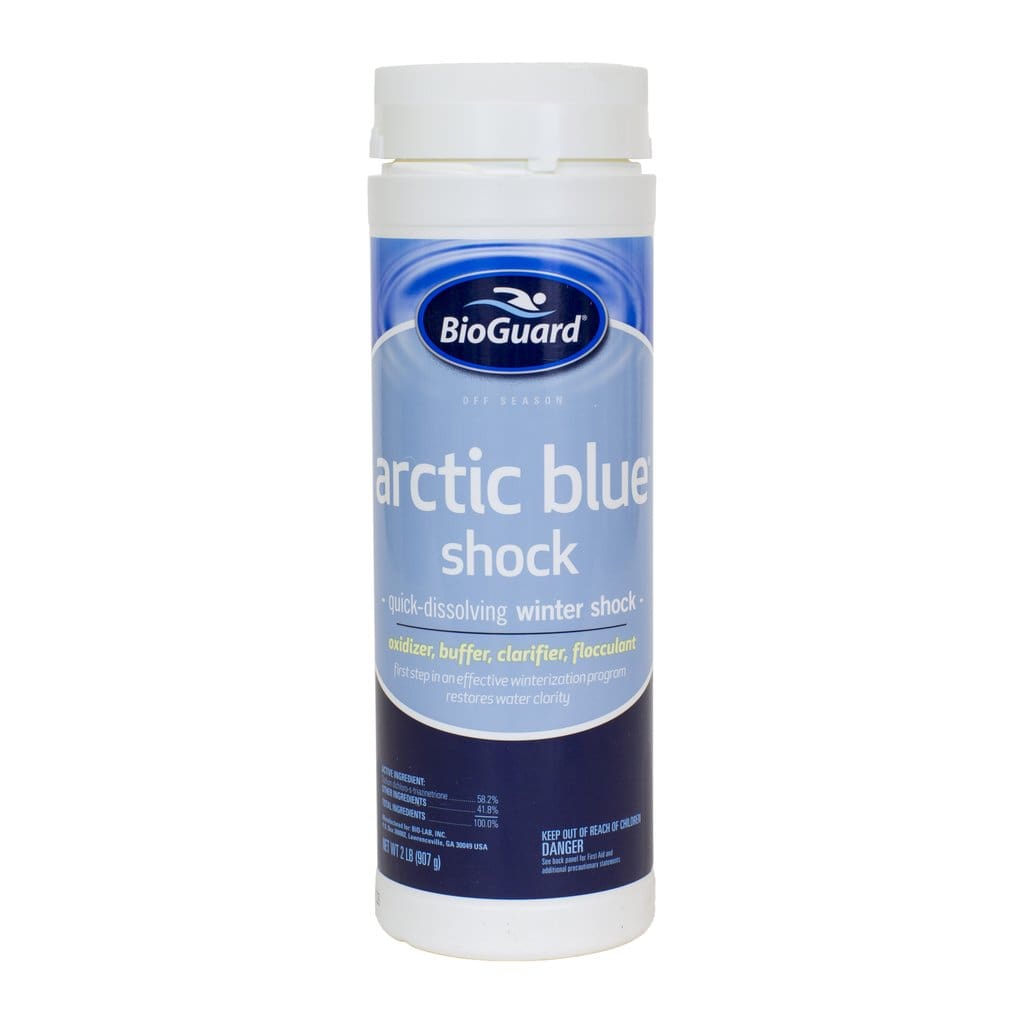 Step 1: BioGuard Arctic Blue Shock
This is the perfect first step in winterizing your pool because it kills bacteria, algae, and other contaminants that can cause you problems all winter long.
Don't like messy liquids?? This shock's powerful granular formula can be quickly broadcast into your pool without needing dilution. When used in conjunction with algaecide, your pool stays clean and healthy throughout winter. This means your spring opening is faster and hassle-free.
Multi-purpose winter shock used to oxidize and clarify through the off season
Restores water clarity
Use of product makes pool opening easier
Ideal for all pool surfaces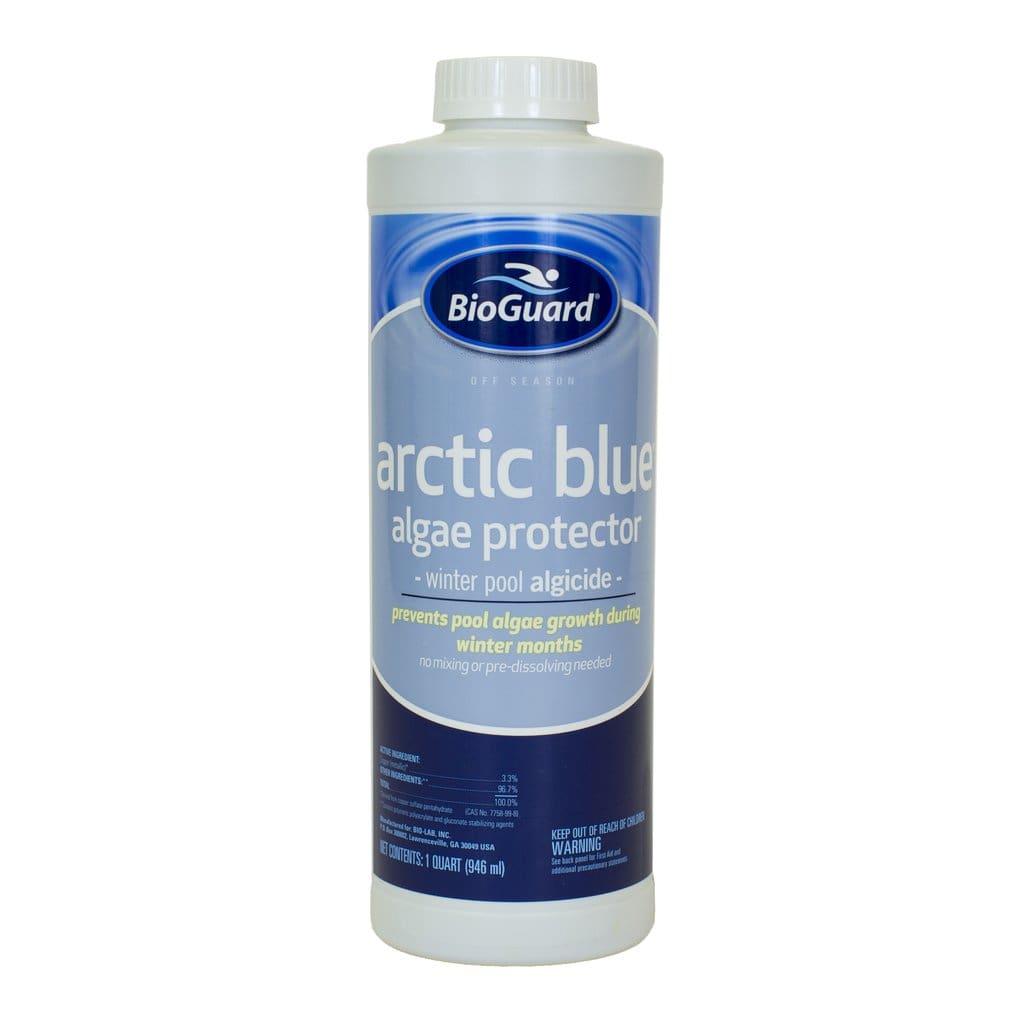 Step 2: BioGuard Arctic Blue Algae Protector
This product prevents the growth of all types of pool algae and helps maintain pool water clarity during the winter when the pool isn't being used. Arctic Blue Algae Protector is formulated for use in chlorinated or brominated sanitized swimming pools. You can use it in pools of all surface and filter types.
Prevents algae growth during winter months
Non-staining pool algicide
No mixing or pre-dissolving needed
Formulated for use in chlorinated or brominated swimming pools of all surfaces and filter types

Step 3: BioGuard Arctic Blue Floater
BioGuard Arctic Blue Floater (3.5 lb) is the perfect solution for continuous winter chlorination in white plaster pools.  It features SilkGuard technology that coats metal surfaces, protecting them against rust.
For easy, continuous winter chlorination
Uses SilkGuard® technology which reduces corrosion and inhibits scale formation
Saltwater pools can benefit from use during the off season even without completely closing pool
Works with white plaster pools only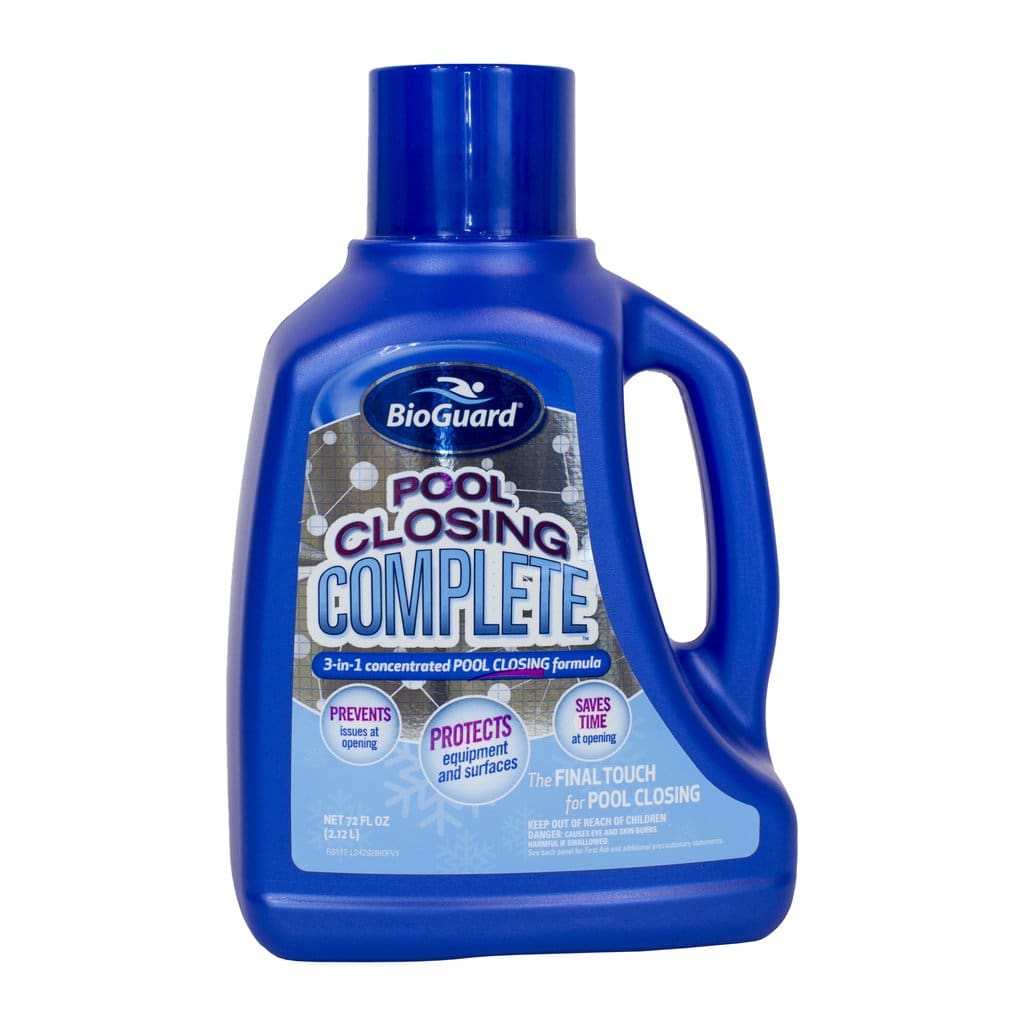 Step 4: BioGuard Pool Closing Complete
BioGuard Pool Closing Complete provides the final touch for your pool closing. A concentrated 3-in-1 formula saves time and prevents issues at opening. It also protects pool surfaces and equipment during the cold weather months. This product works well with BioGuard Arctic Blue products.
Protects your pool in the off season during cooler winter temperatures with anti-corrosion and anti-scale properties
Adds water line protection
Saves valuable timing at opening
Works on all pool types (in-ground, above ground, chlorine, bromine and saltwater)
Close Late for Best Spring Opening
We recommend you wait until your water temperature is consistently below 60-65° for a better spring opening.
In Oklahoma, we're often looking at late October before this is the case.
Your water temperature needs to be consistently below 60-65° to avoid algae growth and other problems.
If you close your pool prematurely, you'll have more work and spend more money when it's time to open your pool in the spring.
Final Thoughts
We encourage you to take care of your pool all year long. With BioGuard's off-season products, you can take care of your pool during the months when your pool isn't being used.
While closing your pool may seem like just another thing on your to-do list, it's an important one!
Closing your pool makes maintenance easy during the off season and keeps things under control until you are ready to open it. Closing your pool properly means an easier spring opening that can help save effort, time and money!
Would you like help closing your pool? Our expert and experienced staff can help!
https://fiestapoolsandspas.com/wp-content/uploads/2014/07/pool-gallery-310.jpg
768
1024
Swimming Pool and Spa Experts
https://fiestapoolsandspas.com/wp-content/uploads/2016/09/logo-otter.png
Swimming Pool and Spa Experts
2018-09-14 05:00:58
2021-09-23 18:20:36
How to Use Winter Chemicals