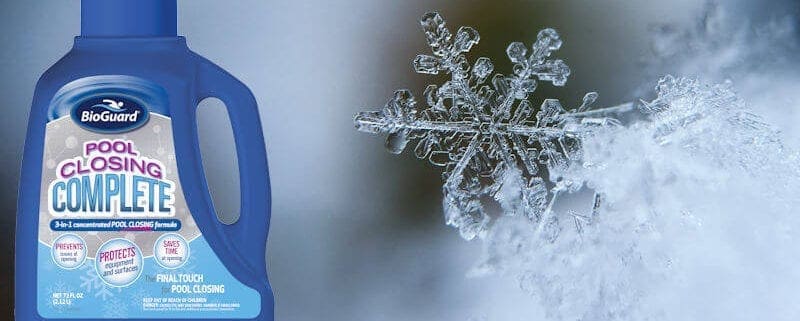 Pool Closing Complete™ from BioGuard is just what you need for the final touch of your pool closing.
Whether you close your pool later this fall or have us do it, this is a great product to add before closing time.
Pool Closing Complete protects your pool in the off season by safeguarding your valuable equipment and surfaces during the cold winter months. It helps ensure a much quicker spring opening!
Protects your pool in the off season during cooler winter temperatures with anti-corrosion and anti-scale properties
Adds water line protection
Saves valuable timing at opening
Works on all pool types (in-ground, above ground, chlorine, bromine and saltwater)
Product Dosage
1 bottle for pools up to 25,000 gallons
1/2 bottle for pools lees than 12,000 gallons
Directions
Before Applying BioGuard Pool Closing Complete:
Make sure all pool equipment is working properly, including pump, filter, skimmer and heater. If needed, backwash and/or clean filter according to manufacturer's directions. Follow manufacturer's directions for winterizing equipment.
During the Pool Closing Process:
Shake well before using. Apply entire bottle (72 fl oz) for up to 25,000 gallons of pool water. For pools less than 12,000 gallons, apply half the bottle.
Apply slowly and directly into water while walking around deep end of pool.
Allow pump and filter to operate for at least 2 hours after application.
Stop by one of our stores and pick yours up today.
https://fiestapoolsandspas.com/wp-content/uploads/2017/10/pool-closing-unsplash.jpg
413
800
Swimming Pool and Spa Experts
https://fiestapoolsandspas.com/wp-content/uploads/2016/09/logo-otter.png
Swimming Pool and Spa Experts
2018-10-02 18:23:24
2018-10-03 01:53:02
Pool Closing Complete