Skip the Travel, Have a Staycation

There's never been a better time to plan for a staycation instead of a vacation.  Traveling during the coronavirus outbreak can be a bit daunting. So, why not skip the travel, and have a staycation.
You can still enjoy the warm sun on your face, use a whole bottle of sunscreen, and have plenty of water fun!
But, you don't have to spend time traveling, paying for hotels, getting stuck in airports, traveling by car for hours on end, eating out, tipping, buying souvenirs, and worry about getting sick. Why? Because you're having all the same fun right at home. Let's look at the staycation.
The Best Vacation is Right at Home
Staycations are a year-round vacation right in your own home.  You'll never hear from your kids, "Are we there yet?"
The best thing you'll hear from them is, "Let's go outside!"
All you need for a great vacation at home is a backyard. Then, you can fill it with a swimming pool, hot tub, Endless Pool, and an outdoor room with a Big Green Egg.
Wherever you have water, you have a vacation. Plus, being outside makes us feel better.  While the sun loads us up on Vitamin D, we enjoy time in the pool or hot tub with our friends and family, and we can cook delicious meals outside.
You Get a Lifetime of Memories
A staycation doesn't have to last for a week or a weekend. With a pool or hot tub in your backyard, it can last all year long.
Once you have water in your backyard, you have a place for gatherings as well as a place to relax outdoors in solitude.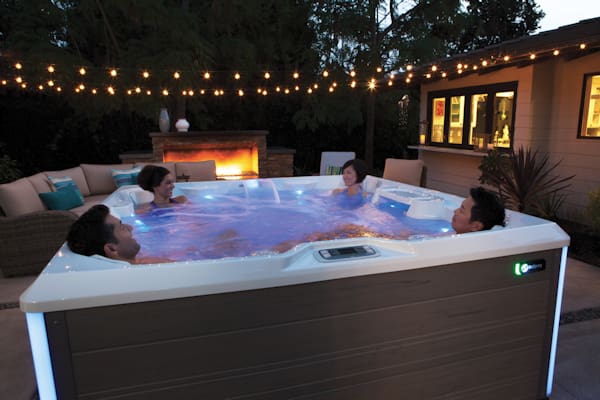 It's a Spa Day
Want to have a spa day, but you don't want to pay the cost?
With your own hot tub in your backyard, spa day is just one step out the door. You can also use your tanning ledge or a pool chair to soak up the sun in between hot tub massages.
Put on some music, eat some healthy food and relax.
You Can Have a Pool Party
What's better than your own private pool party? There are no crowds, and everyone is a friend or family!
Fire up your grill, turn on the music, hang some lights, get out some towels, plan some games, and you are set for a staycation with pals.
Romance is Never Far Way
When you have a pool or hot tub in your backyard, the trip you wanted to take for romance is at the ready every single night of the year!
Put on some music, light some candles, have some great food, a few drinks, and some flowers, and the mood is set.
Consider a sunset romantic candlelit dinner for two!
Final Thoughts
While we're in the middle of a scary time in the United States, we'll be looking for ways to feel better. One of the best ways to do that is to spend time in water! Since most of us are forgoing our vacations this year, consider adding a pool or hot tub instead! Not only will you have a great space to relax and have fun now, but you'll have it for a lifetime!
Here's to a lifetime of backyard memories!
https://fiestapoolsandspas.com/wp-content/uploads/2020/03/Skip-the-Travel-Have-a-Staycation.jpg
664
1500
Fiesta
https://fiestapoolsandspas.com/wp-content/uploads/2016/09/logo-otter.png
Fiesta
2020-03-13 20:00:22
2020-03-13 20:01:32
Skip the Travel, Have a Staycation