Dreaming of your own backyard paradise? Are the kids begging for a pool? Looking for a way to spend more quality family time together? Want the ambiance in your yard? Looking for crystal blue water as the centerpiece?
One of the first questions many of our pool owners ask is, "How long does it take to build a pool?" While each pool is unique, we can safely say it takes on average eight-12 weeks to build a pool.
In this article, we look at the steps involved in building your dream pool.
If you're looking to enjoy it first thing this spring, it's a good idea to get a jump start on it during the fall and winter months. Let's look at the process.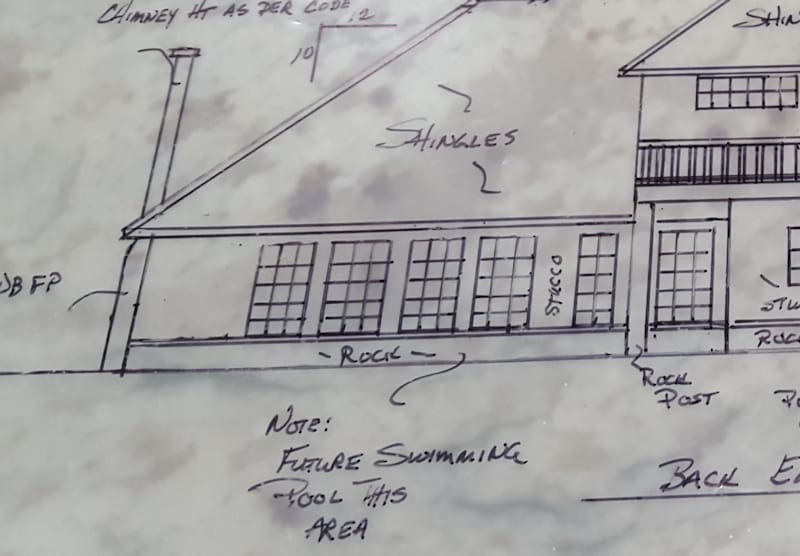 Step #1: The Design
The design process can take up to four weeks. We first start with a meeting with you and our pool designs to discuss your ideas. We'll also take a look at your property.
Once our designer comes up with idea, we'll go back and forth to come up with the perfect design for you, your budget, and your backyard.
Step #2: The Permit
The permitting process can take two-six weeks. We need a residential building permit to build your pool. This is important because it shows we are operating legally and safely.
The time to get the permit varies, and the wait time for this is out of our control. Sometimes the permit comes quickly, and other times it trickles in.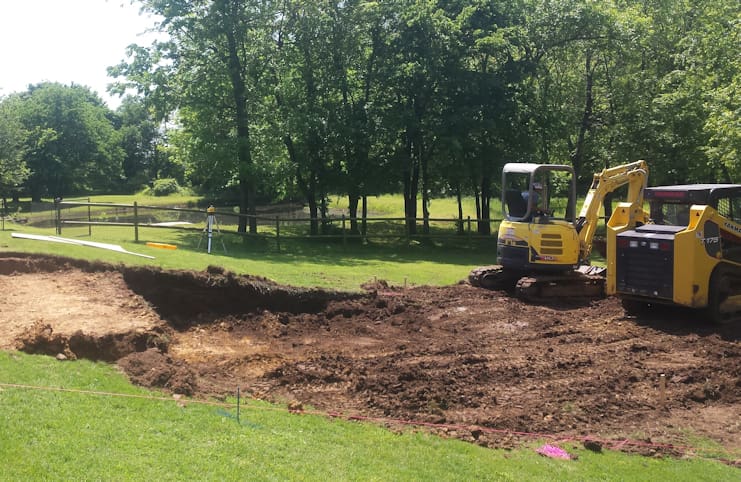 Step #3: The Excavation
Excavating your yard usually takes one or two days, but please note complications can arise if we run into problems with utility lines or other impediments.
This process may also take longer in the spring due to rain and a  high demand for in-ground pool construction. This is another reason fall is a great time to install a pool!
Step #4: The Underworkings
Count on up to two weeks for us to install the steel, route the electrical and pluming, and ensure everything under your pool is set up just right.
We'll consider lighting, hot tubs, water features, and other accessories as we put this all together. Extra time may be needed for larger builds or complex ones.
Step #5: The Pool
This step can take up to three weeks as we build the inside structure of your pool. This is the gunite, plaster, vinyl or fiberglass.
Don't forget for pools like gunite pools, we need time for it to cure before we can put water in your pool.
Step #6: The Customer Features, Deck and Landscaping
For this step, you can plan on up to four weeks, depending on the complexity of your project and chosen design.
Consider your decking, landscaping and features such as custom lighting and water features.
Final Thoughts
So, overall, it can take eight to 12 weeks to build your pool. Do remember that weather plays a big part in how long it takes to dig and build your pool.
At Fiesta Pools and Spas, you can count on us to do it just the way you want it. And, while three months may seem like a long time, just imagine the years of enjoyment you'll have in your backyard swimming oasis.
If you're interested in building a pool, please contact us today! We also offer financing, so check out the application on our website.
At Fiesta, we make backyard dreams come true and have been doing so for well over 60 years!
https://fiestapoolsandspas.com/wp-content/uploads/2019/10/How-Long-Does-It-Take-to-Build-a-Pool-1.jpg
696
1200
Fiesta
https://fiestapoolsandspas.com/wp-content/uploads/2016/09/logo-otter.png
Fiesta
2019-10-02 08:00:06
2019-10-04 03:08:13
How Long Does It Take to Build a Pool?