Summer Low-n-Slow Smoking Tips

Low-n-slow smoking tips – that's what we're talking about today! Real barbecue is all about cooking slowly over a low heat infused with wood smoke. It's oh-so delicious and part of an incredible summer!
Check out this info on summer lo-n-slow smoking tips on your Big Green Egg.
Low-n-Slow Smoking Tips
Did you know when you smoke on your grill, the aromatic wood smoke helps preserve the meat and add extra flavor?
The result is meat that is succulent with a fall off the bone tenderness. You'll also notice an amazing combination of smoke, spices, and natural meat flavors.
When you cook low-n-slow, it tenderizes your meat. Think beef brisket, pork butts, pork shoulder, and spare ribs. You measure your cook time in hours and not minutes. While it takes a bit of pre-planning to begin your cook in enough time to eat it, we promise it is well worth the wait!
Don't forget that you can also smoke other types of foods giving them the "kiss" of wood smoke. We like to smoke:
Cheese
Fish
Turkey
Vegetables
Nuts

The Best Temperature for Smoking?
Most Eggheads agree that true smoking temperatures range from 225° to 275°F. As you fine tune the art of smoking on your grill, you'll learn how to adjust the draft openings to set the right temperature.
The best news, though, is that the Big Green Egg retains its heat at precise temperatures for sixteen to eighteen hours or more on a single fill of natural lump charcoal. This means you don't have to work hard to keep the temp low.
The Big Green Egg is the Best Smoker
With an EGG, the temperature stays in the desired range. For you, this means your results are predictable. You don't have to worry whether or not your food is going to come out right.
The Egg is also usually faster than a traditional metal smoker. These smokers can struggle with wind and temperature conditions, but not the EGG.
What's more, you have to put a water pan in many metal smokers so your food doesn't dry out. This doesn't happen on the EGG because your smoked meats retain their moisture.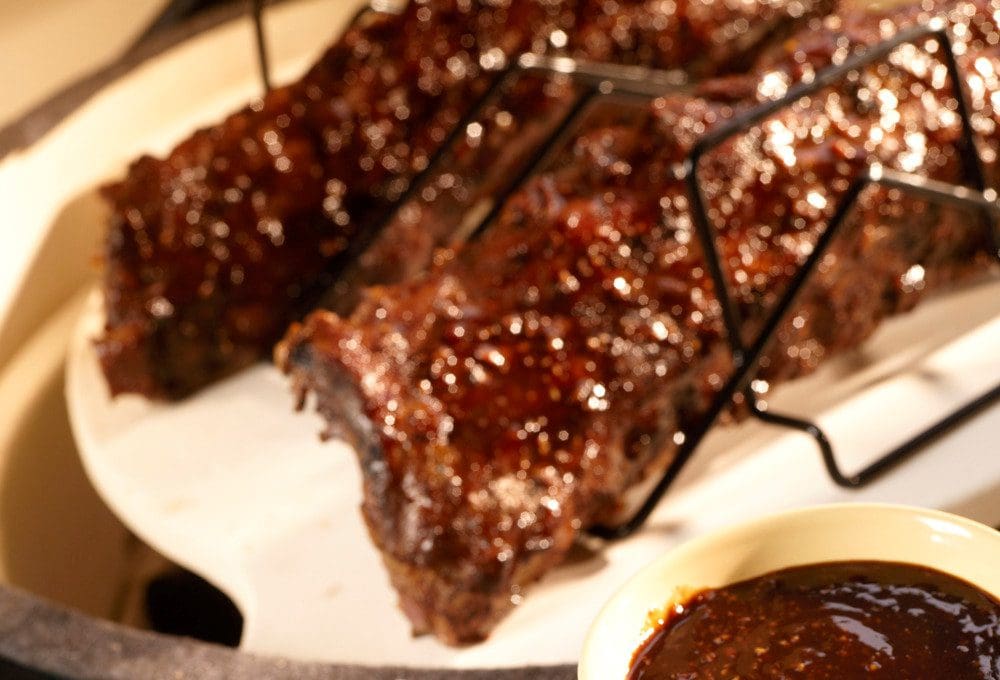 The Benefits of convEGGtor
A convEGGtor – once known as a plate setter – is a ceramic disc with three "legs" to assist you with indirect, or convection, cooking.
The convEGGtor is a barrier between the food and the direct heat of the fire. Yet, it allows the hot air and smoke to flow around the food.
When you cook with this tool, you don't need to turn your food during the smoking process.
Tell Me About the Charcoal
You might wonder about whether you need to add more charcoal for your lo-n-slow cook. The truth is that a single load of Big Green Egg natural lump charcoal should be all you need for just about any cook.
If you are getting ready for a very long, slow smoke, alternately layer the lump charcoal with wood chips to ensure sufficient smoke flavor throughout the extended process.
Pour a layer of charcoal into the Fire Box, then sprinkle a handful of wood chips over the top.
Add another layer of charcoal and another handful of chips, alternating until the layers reach the top of the Fire Box
Now you have enough heat and wood smoke to last for a long period of smoking at 225° to 275°F.
A Few More Lo-n-Slow Smoking Tips
As a part of EGGnation, we've got a few more smoking tips for you so you have the best meal every time.
Don't over smoke or over season your food. You'll find the aromatic wood smoke delicately seasons your food perfectly.
Try different flavors of wood. Try combinations, too. You'll learn which works best which each cut of meat, fish, or veggies.
Smoking chips work for quick bursts of smoke.
Wood chunks are actually larger pieces of hardwood, and they create more smoke over a longer period of time.
Be patient. You don't want to rush your cook because it's lo-and-slow on purpose. Give yourself time to get your EGG to the right temperature.
Wait until the white smoke is gone. Why? It's bitter.
Add your food when there is a clear or thin blue stream of smoke.
Don't get your EGG too hot at startup. This just wastes your time.
That low cooking temperature helps tougher cuts of meat become melt in your mouth tender.
Purchase best quality meat you can afford.
Don't peek under the lid. Why? Each time you raise the cover, you let out heat and smoke, so you end up having to cook longer. Just check the reading on your external thermometer and follow your recipe.
Give your food room to breathe and don't overload the grill. You'll just end up cooking longer, and you'll lose some of the smoky flavor.
Use only natural wood like the Big Green Egg lump charcoal. It's 100% natural with no additives, fillers, or chemicals.
Final Thoughts on Lo-n-Slow Smoking Tips
There's nothing better than food cooked lo-n-slow.
Be patient, and you'll soon be in for a treat.
Finally, get creative. Smoke everything. Try meat, cheese, and vegetables. You can even throw fruit like peaches and nectarines on your grill.
The goal is to perfect your craft and enjoy some of the best tasting food ever!
Don't have a Big Green Egg or have questions? We are always here to help you! Stop by or give us a call at either of our two locations.
https://fiestapoolsandspas.com/wp-content/uploads/2022/07/Summer-Low-n-Slow-Smoking-Tips.jpg
615
1080
Fiesta
https://fiestapoolsandspas.com/wp-content/uploads/2016/09/logo-otter.png
Fiesta
2022-07-14 08:00:56
2022-07-15 00:13:27
Summer Low-n-Slow Smoking Tips