Do You Need a Safety Cover?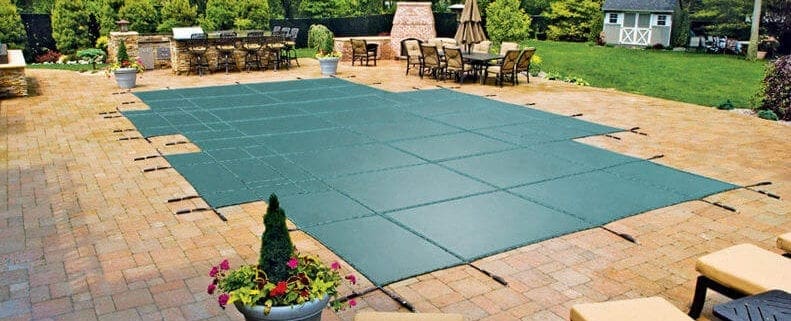 Do you need a safety cover? The answer is yes, and we're going to tell you why.
How's Is a Safety Cover Different?
A safety cover is different from a solid vinyl pool cover as the typical pool cover is little more than a tarp over your pool.
It doesn't keep children or pets out of the pool.
All safety covers must conform to the Standard Performance Specification set by the American Society for Testing and Materials (ASTM). According to the ASTM, a safety cover must be able to support a certain amount of weight, not permit gaps that a child or pet could squeeze through, and remove standing water.
We like LOOP-LOC safety pool covers because they far exceed minimum ASTM standards.
Built from extremely strong material and secured tightly to the deck by heavy-duty springs and brass anchors, a LOOP-LOC safety cover puts a "lock" on a pool that prevents children and pets from gaining entry to the water.
The Importance of the Safety Cover
Putting a safety cover on your swimming pool is essential.
Safety covers add a layer of security to your pool, keeping children, pets and wild animals out of your swimming pool.
Plus, as an added benefit, safety covers keep debris out of your pool during the winter and make spring clean up much easier.
When you choose to add this safety barrier to your pool, you can pick from several different styles.
The Types of Safety Covers
You'll find two basic styles of covers – the solid cover and the mesh cover. What's the difference?
Both the original LOOP-LOC super dense mesh safety swimming pool cover and the Patented ULTRA-LOC solid safety swimming pool cover provide superior protection for your family.
Mesh covers do have one safety advantage as they don't permit water to collect. In order to meet safety cover performance standards, solid covers must provide for the elimination of standing water.
The patented ULTRA-LOC® solid safety cover is available in two versions: one with "invisible" mesh panels that allow water to drain through, and an all-solid version that is always sold with an automatic cover pump.
The ULTRA-LOC material is proprietary to LOOP-LOC and made with 100% polypropylene. The pump must be used at all times in order to maintain the safety of the cover.
Ultimately, though, the choice between a mesh or solid cover is your preference.
Here is a bit more info on solid and mesh covers.
Solid Covers
Block 100% of sunlight.
They drain faster! Its unique material "bounces back," so water quickly finds mesh drainage panels!
Exclusive computer-aided design ensures a perfect, custom fit for any shape or size pool.
Backed by a 15-year pro-rated warranty.
Environmentally friendly and 100% recyclable.
33% lighter than typical solid vinyl cover material,
Stays tight and beautiful year after year, in any weather.
Available with or without mesh drainage panels. A cover without drainage panels blocks 100% of sunlight and is sold with an automatic pump, which must be used at all times to meet ASTM safety cover standards.
You'll find solid safety covers from LOOP-LOC don't leave ugly pockets of water and debris that are found on typical solid vinyl covers. This means no heavy pumping, scrubbing or heavy maintenance that solid waterbag covers require.
Mesh Covers
Mesh covers are manufactured of ultra-strong, super dense mesh that blocks virtually all sunlight but still let rain and melting snow easily drain through.
If you want less light and debris in your pool, the mesh cover is the perfect choice. You'll still enjoy the utmost in protection. After all, LOOP-LOC covers are durable enough to hold an elephant!
Mesh covers let rain and melting snow drain right through.
The LOOP-LOC cover is backed by a 15-year pro-rated warranty and so safe, it may reduce your liability insurance.
Covers are lightweight, so putting it on and taking it off your pool is a snap.
You'll find LOOP-LOC blends beautifully into any backyard.
LOOP-LOC's patented CABLE-LOC™, GAPGUARD® and SECURE-A-GAP® Child Safety Intrusion Barriers close the gap created when a pool includes raised obstructions located at the cover's edge.
The polyester bonded thread used in LOOP-LOC covers costs almost 10 times more than others on the market.
Double perimeter webbing and double-thick straps give covers an incredibly high break strength.
High-strength, non-corrosive type 302 grade stainless steel springs for superior weight-bearing capacity.
Unique brass anchors recess flush with the deck when the cover is removed.
The webbing is sewn to the cover using contrasting white thread, instead of black, to ensure that not a single stitch is missed.
Chafe strips are manufactured with exclusively virgin material – not "regrind," which tends to stain decking.
Non-corrosive aluminum tips are double-notched for stability.
The large X-tacking on LOOP-LOC straps is sewn manually for precise placement and maximum strength.
Final Thoughts
Hopefully, we've answered the question, "Do I need a safety cover?"
If you're ready to explore your options, please complete the form below, give us a call or stop by one of our two locations!
Photo: LOOP-LOC

https://fiestapoolsandspas.com/wp-content/uploads/2016/08/loop-loc-blog.jpg
533
791
Swimming Pool and Spa Experts
https://fiestapoolsandspas.com/wp-content/uploads/2016/09/logo-otter.png
Swimming Pool and Spa Experts
2020-08-22 08:00:48
2020-09-28 20:52:48
Do You Need a Safety Cover?