Your grill investment should reward you all year long, regardless of the weather. While many other grills are useless in the cold, the thick ceramic construction of an Big Green Egg keeps heat in. You'll find the EGG lets you cook as perfectly in the winter as you do all spring and summer long!
In this article, we look at winter grilling and the all season cooker.
Big Green Egg is the All-Season Cooker
We know what you're probably thinking. Can I really grill in the winter? And why would I even want to?
First, Big Green Egg owners all over Oklahoma know they can grill in the winter, and they love it!
Second, it's easy to use the Big Green Egg in cold weather. While gas grills and pellet cookers may prove troublesome in the winter, you'll find the opposite with the EGG. It takes longer to warm up a gas grill or pellet cooker, you use more fuel, and you may even need to add a warming blanket around your grill. Not so with the EGG!
Because of the top-notch, incredible thermal efficiency of the EGG, the outside temperature doesn't affect it! You'll find this even if the temperature drops below freezing.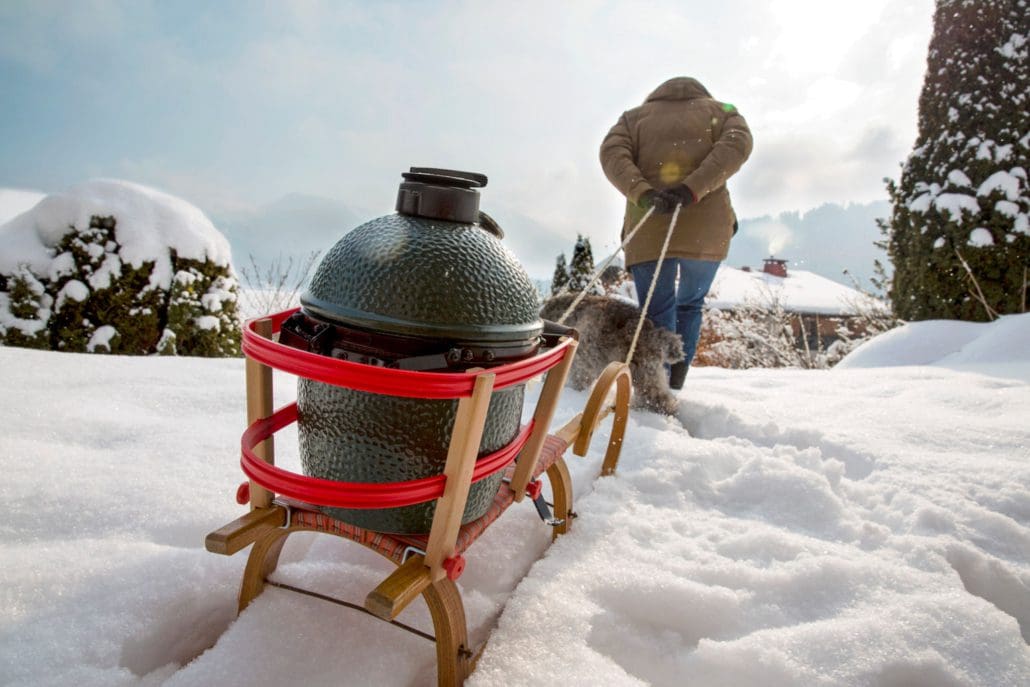 The All-Weather Benefits of an EGG
You'll find that a Big Green Egg kamado grill – regardless of the weather – heats up and is ready to use in minutes.
You don't have to worry about empty gas tanks or moving parts that can freeze up, rust, or wear out.
You might ask what happens if you lose power. Well… no problem!
Even in the coldest, snowiest weather, you'll fin you can easily light your all natural lump charcoal. It lights quickly, and you don't need any power cords. This means there is absolutely nothing keeping you from a warm, home cooked hearty winter meal.
Your Cozy Night-In Starts by Cooking Out
There is nothing more comforting than a hot EGG cooking a warm meal on a cold rainy day or a chilly night.
You'll find that one of the many benefits of a Big Green Egg is that you cook with the dome closed. Why is this great? It's super because the heat and moisture stay inside so your foods don't dry out.
The best part about this? It means you don't need to stand in the cold and hover over the EGG while it cooks!
All Season Cooker is Cure for the Winter Grilling Blues
Finally, one of the best things about our favorite all season cooker is that it beats the winter blues. You don't have to stop grilling in the winter. You can cook on your EGG all year long!
What's more, cooking outside helps beat the winter blues. You get to be outside enjoying the crisp, winter air.
With an EGG, it's not about how to grill in winter, it's about what to grill! Check out our recipe section on our blog for some hearty recipes that leave you feeling warm and satisfied.
https://fiestapoolsandspas.com/wp-content/uploads/2022/01/The-All-Season-Cooker.jpg
783
1536
Fiesta
https://fiestapoolsandspas.com/wp-content/uploads/2016/09/logo-otter.png
Fiesta
2022-01-21 08:00:03
2022-01-21 02:33:45
The All Season Cooker