Keeping Your Hot Tub Hot for the Holidays

Winter festivities are upon us, and that means your hot tub is up for more frequent use.
In this article we look at keeping your hot tub hot for the holidays so everyone can enjoy a relaxing soak during their winter vacation.
The Hot Spa
It's freezing outside, and you run out the back door in your swim suit towards your spa. You expect it to be hot, right?
There's nothing better than going from freezing cold to a warm, watery embrace. At over 100 degrees, your hot tub water is a welcome respite from cold winter's day. This is perfect hot tub weather, and we want you to enjoy it!
Winter is the perfect time to enjoy your hot tub for relaxation and to soak your worries and stress away. Hot tubs are great for your health, and they can even relieve the symptoms of the occasional cold. Sweat away your toxins while relieving nasal congestion. Ease body aches and enjoy family time together.
To help you maintain your hot tub for maximum enjoyment, we've put together a few tips for keeping your hot tub hot for the holidays.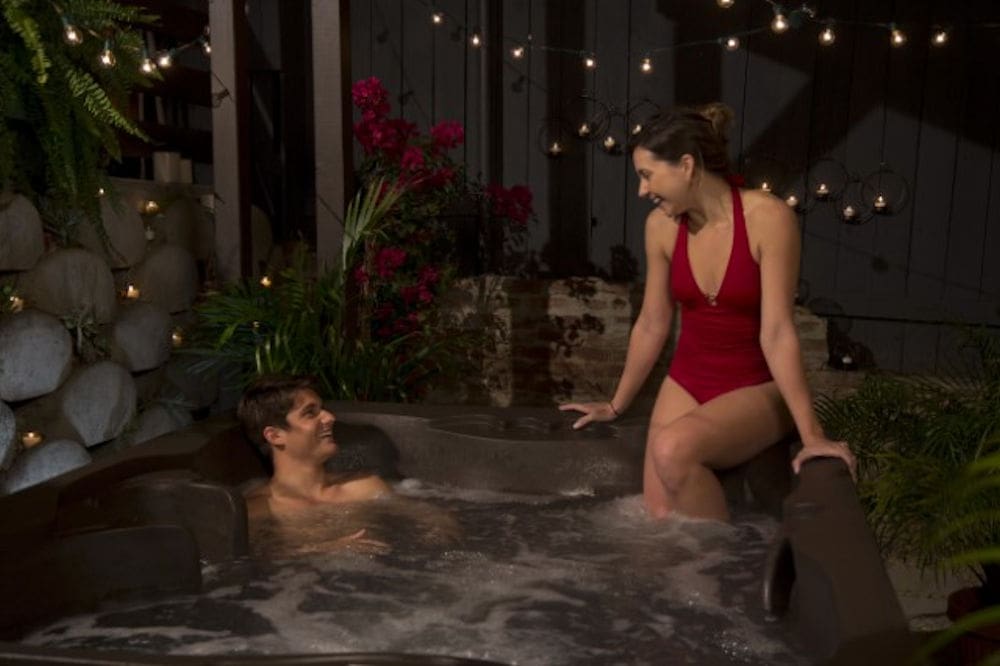 Maintenance Tips
Check your water level on a regular basis. If you're losing water, you might have a leak, and it's time to call in the experts. If you have a leak when the weather is freezing, you can end up with bursting pipes or pumps that quit. None of this is good for your spa, so check your water levels.
Learn about your spa controls. You will most likely find that your spa as an auto heat mode or freeze protection that ensures your water is warm and circulating. This doesn't mean you can forgo checking your water levels, though.
Use your spa cover. Make sure your cover is on tightly so the heat and steam don't escape. This is easier on your hot tub and on your energy bills. If you have questions on how best to protect your hot tub, stop by, and we can help.
Save energy by using your hot tub timer if it has one. Consider having your spa run 15 minutes out of every hour. As with your own in-home furnace, keep your water temperature at or about your desired water temperature as this uses less energy than having to warm up cold water every day.
Balance your spa water. Take care of it just as you would during the warm season. You want to ensure your spa chemical levels are at the optimum level. Make sure you ave a clean filter.
Keep your water clean. Change your filter when necessary and ensure you are using the proper chemicals to keep the water clean.
Final Thoughts
Follow these tips to keep your hot tub in great shape this holiday season. If you don't have a hot tub, check out our selection below. If you do have one and need help with service, contact us – we can help!
https://fiestapoolsandspas.com/wp-content/uploads/2018/12/Keeping-Your-Hot-Tub-Hot-for-the-Holidays-1.jpg
1200
1800
Swimming Pool and Spa Experts
https://fiestapoolsandspas.com/wp-content/uploads/2016/09/logo-otter.png
Swimming Pool and Spa Experts
2021-12-23 08:00:57
2021-12-23 17:17:56
Keeping Your Hot Tub Hot for the Holidays